Supporting Louisiana's vibrant and thriving poetry scene
As Louisiana's literary ambassador for two years, the Poet Laureate travels the state encouraging fellow Louisianans to explore and engage with poetry.
The LEH oversees the Louisiana Poet Laureate nomination process in partnership with the Governor of Louisiana and sponsors Poet Laureate public programming in libraries, museums, schools, community centers, and other non-profit cultural institutions throughout the state.
Recent Poets Laureates include Alison Pelegrin (current), Mona Lisa Saloy, John Warner Smith, Jack Bedell, Brenda Marie Osbey, Darrell Bourque, Julie Kane, Ava Leavell Haymon, and Peter Cooley. For a full list of Louisiana Poet Laureates, click here.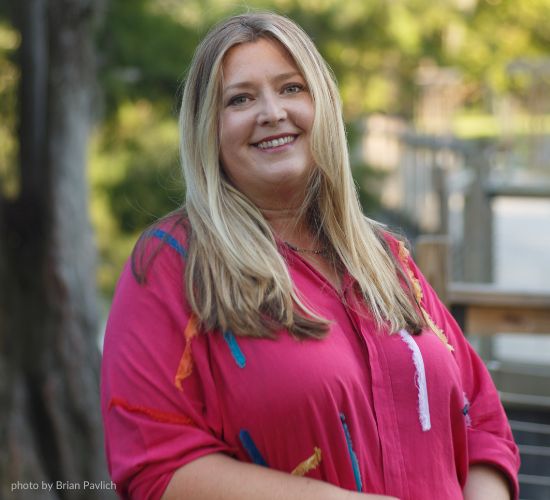 2023–2025 Louisiana Poet Laureate, Alison Pelegrin
Alison Pelegrin, a Covington resident, is Writer-in-Residence at Southeastern Louisiana University, where she also taught for 20 years. She is the author of Our Lady of Bewilderment (LSU Press, 2022), Waterlines (LSU Press, 2016), Hurricane Party (University of Akron Press, 2011) and Big Muddy River of Stars (University of Akron Press, 2007), which was the winner of the 2006 Akron Poetry Prize. Her chapbook Our Lady of the Flood won the Diode 2018 chapbook prize and an Eric Hoffer Award.
Pelegrin is the recipient of a literature fellowship from the National Endowment for the Arts and an ATLAS Grant from the Louisiana Board of Regents. Her work has appeared in Bennington Review, The Southern Review, Ninth Letter, and as printable broadsides at Broadsided. She received her Bachelor of Arts and Master of Arts in English from Southeastern Louisiana University and a Master of Fine Arts in creative writing from University of Arkansas.
Do you want to bring the Poet Laureate to your town?