Our Work
The Helis Foundation John Scott Center
A hub for integrated arts and humanities programming unlike any in the Gulf South
Artist, educator, and humanist John Scott exemplified the genius that runs in the veins of many Louisianans who live dedicated and distinctly local lives. Opening in 2022, The Helis Foundation John Scott Center will present the LEH-held collection of Scott's art in 6,000 square feet of interactive exhibition space. 

Housed in the LEH's historic building, Turners' Hall, in downtown New Orleans, The Center will allow visitors of every age to wholly engage with Scott's art and explore its three primary humanities themes: human expression, human and civil rights, and human interaction.
Programming at The Center will draw first and foremost from John Scott's body of work, but will also expand to offer educational opportunities as well as programs on the environmental humanities, pandemics, poverty, and justice.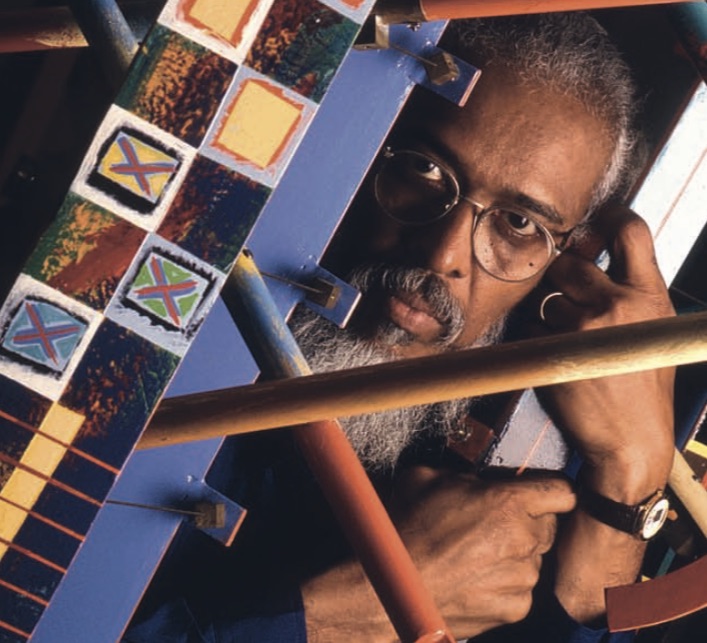 "…if you can imagine all ideas that ever were, are, and will be as a glass ball, and you're suspended in the middle of it. If you look up, you understand down; if you lean forward, you understand back."
– John T. Scott
Scott created art that was a manifestation of his experiences: growing up black in the Jim Crow South; struggling to obtain civil rights; coming of age during the Cold War and the Space Race; and participating in the vivid street culture of New Orleans.
Thank you to our donors
The LEH is deeply grateful to all capital campaign contributors, including The Helis Foundation, the National Endowment for the Humanities, and the State of Louisiana for their visionary support of this project, which is certain to have a meaningful and lasting impact on humanistic study in Louisiana.  Through support like this, the LEH has been given the unique opportunity to put a public face on the humanities, while further propelling the legacy of an influential Louisiana artist into the public conscience.