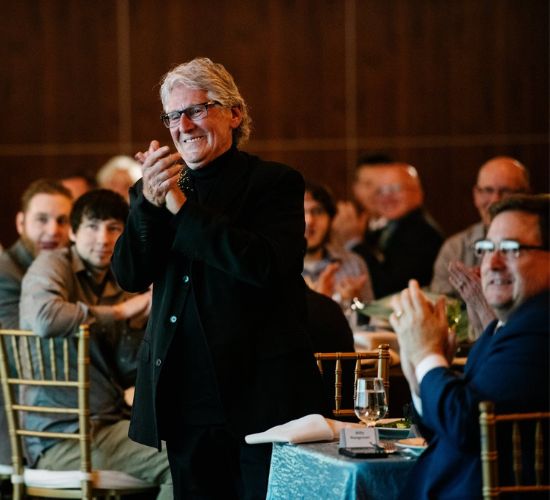 Celebrating Louisiana Luminaries
Every spring, the Louisiana Endowment for the Humanities celebrates the brightest lights in Louisiana humanities at the Bright Lights Awards Dinner. The annual event recognizes the recipients of the LEH's Humanities Awards, honoring individuals and organizations who have made significant contributions to the study and understanding of the humanities.
Want to stay updated on the latest involving Bright Lights? Sign up for our monthly e-newsletter here.
About the event:
This year's Bright Lights Awards Dinner was presented with support from Entergy and took place Thursday, May 11, 2023,  from 7 to 9 p.m. under the stars at LEH's historic Turners' Hall, 938 Lafayette Street in New Orleans. A patron party was held from 6 to 7 p.m. in The Helis Foundation John Scott Center, which now occupies the first floor of Turners' Hall.
Urban South Brewery provided local craft beer, and Happy Raptor Distillery crafted a special hibiscus lemonade with their signature, locally made rum for attendees.
The evening featured a silent auction with items like art, unforgettable travel opportunities, festival passes, and more goods that reflect the diversity and richness of Louisiana. 
Since 1985, the LEH has honored leading humanities scholars, authors, poets, literacy advocates, photographers, humanities patrons, and documentary filmmakers in Louisiana through the Humanities Awards.
The annual Bright Lights Awards Gala brings together local officials, community leaders, and humanities advocates alike to celebrate the year's awardees and all that the humanities can achieve.
See the full list of Humanities Awards winners from 1985 to now here.
THANK YOU TO OUR 2023 SPONSORS!