Back to news
Awards
Bright Lights Online: Conversations with 2020 Humanities Awards Winners
This fall and winter, the Louisiana Endowment for the Humanities will host Bright Lights Online, a series of online conversations with recipients of the 2020 Humanities Awards, presented by Entergy.
Every year we pause to recognize and celebrate those individuals and organizations making an impact in Louisiana through the humanities. For nearly 40 years, the LEH Humanities Awards have honored the historians, filmmakers, photographers, poets, artists, singer-songwriters, folklorists, educators, librarians, archivists, preservationists, and more who provide access to the source material that grounds exploratory and interpretive humanities programming.
See below for the full schedule of programs, along with registration information.
A Conversation with Author and Angola 3 Member Albert Woodfox and Artist Jackie Sumell
Friday, November 27, 11 a.m.
Missed it? Watch the video here.
Albert Woodfox, a member of the Angola 3, spent more than four decades in solitary confinement for a crime he didn't commit. Solitary: My Story of Transformation and Hope, the 2020 LEH Humanities Book of the Year and a finalist for both the National Book Award and the Pulitzer Prize, is his story. Woodfox joined artist and activist Jackie Sumell, founder of the nonprofit Solitary Gardens, in conversation.
Keeping Cajun: A Conversation with Longtime Champion of Acadian and Cajun Culture Warren Perrin and ULL Center for Louisiana Studies Director Josh Caffery
Friday, December 4, 11 a.m.
Missed it? Watch the video here.
Warren Perrin, one of LEH's 2020 Lifetime Contributions to the Humanities honorees, has spent decades advocating for the recognition of Cajun culture and heritage. He even successfully lobbied for recognition of the wrongs committed by the British Crown during the Acadian expulsion of 1755, which received a formal apology from Her Majesty Elizabeth II in 2003.
Along with folklorist and Center for Louisiana Studies and UL Press Director Josh Caffery, Perrin discusses his work as a Cajun advocate, how life led him there, and lessons learned along the way.
Publishing Louisiana: LSU Press as Champion of Louisiana Culture
A Conversation with LSU Press Director Alisa Plant and 64 Parishes Editor in Chief Erin Greenwald
Friday, December 11, 11 a.m.
Missed it? Watch the video here.
Named the LEH's 2020 Champion of Culture, LSU Press has published nearly 3,500 titles since 1935. 64 Parishes Editor in Chief Erin Greenwald and LSU Press Director Alisa Plant discussed their favorite titles from the press and its role in expanding public understanding of and access to high-quality scholarship in the fields of southern and Louisiana history, fiction, literary studies, southern foodways, and more. Plant also revealed stories and tidbits from what it's like to work behind the scenes in the academic publishing field.
Coushatta Cultural Legacies: A Conversation with Lifetime Contributions to the Humanities Honorees Bertney and Linda Langley with Dr. Denise Bates
Friday, January 8, 11 a.m.
Missed it? Watch the video here.
Bertney Langley, a Coushatta storyteller and traditional cultural advisor, and his wife, Linda, a retired anthropology professor from McNeese State University who serves as the Coushatta Tribe's historic preservation officer, have dedicated their lives to the preservation of Coushatta culture, history, and language. Dr. Denise E. Bates is a historian at Arizona State University. Her scholarship examines leadership, activism, community development, and sustainable well-being among Indigenous peoples of the 20th century US South.
Capturing New Orleans: Photographer Charles Lovell in Conversation with Gwen Thompkins 
Friday, January 15, 11 a.m.
Missed it? Watch the video here.
Charles M. Lovell, recipient of the 2020 Michael P. Smith Award for Documentary Photography, is a longtime photographer who began practicing full time in 2015 following a career as a museum professional and gallerist. His work has been shown in over 25 solo and over 60 group exhibitions and can be found in multiple museum and archival collections. Gwen Thompkins is a New Orleans native, NPR veteran, and host of WWNO's Music Inside Out.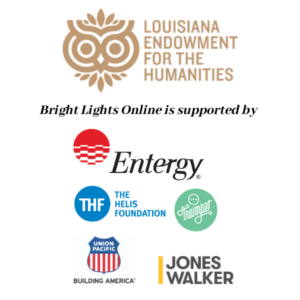 This program is produced by the Louisiana Endowment for the Humanities, the state affiliate of the National Endowment for the Humanities. The views, findings, conclusions or recommendations expressed in this event do not necessarily represent those of either the Louisiana Endowment for the Humanities or the National Endowment for the Humanities