Back to news
LEH
LEH and SVA Announce Winners of the 2019 Gustave Blache III Art Scholarships
The Louisiana Endowment for the Humanities (LEH) and the School of Visual Arts in New York City (SVA) are pleased to announce the winners of the 2019 Gustave Blache III Art Scholarships for Aspiring Artists from Louisiana. Marguerite "Maggie" Michel of New Orleans is the recipient of the undergraduate award and Paul Michael Wright, also of New Orleans, is the recipient of the graduate award.
"The Gustave Blanche III Scholarship is a really big opportunity for me," said Michel. "It's giving me a chance to attend an amazing school and pursue my passion for art in one of the most creative cities in the world."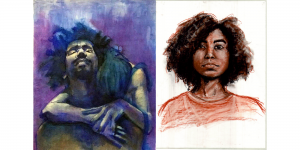 The $25,000-a-year scholarship award includes $20,000 towards an annual tuition fee of $40,000 and $5,000 towards school-run housing.
Wright, whose award will allow him to continue his arts education in pursuit of an MFA, recognizes that "receiving the Gustave Blache III Art Scholarship means the hard work has really paid off, especially for my immediate and extended art family who have supported me from the beginning. I'm very lucky and blessed to be here, and hopefully, this is a seed to my success as an artist/illustrator."
The scholarship is named in honor of Gustave Blache III, an accomplished artist from Louisiana who is an alumnus of SVA and knows firsthand the power of an SVA education. His work is included in the permanent collection of the Smithsonian National Museum of African American History and Culture and has been exhibited at the New Orleans Museum of Art.
Applications for the 2020 awards will open on August 1, 2019, and close on November 1, 2019. All applicants will be required to upload a portfolio of original work, including a minimum of 10 and a maximum of 15 art samples. The awarding of the scholarship is dependent upon the candidate's successful application and acceptance into SVA.
For more information about the scholarship, click here.
above, from left to right: LEH Executive Director and President Miranda Restovic; Marguerite Michel; Paul Michael Wright; and Gustave Blache III