We are excited to announce that work has officially begun on the construction of The Helis Foundation John Scott Center!
A hub for integrated arts and humanities programming unlike any in the Gulf South, the center will open next year and take over the ground floor of LEH's historic building, Turners' Hall, in downtown New Orleans. Dozens of Scott's pieces will be displayed in 6,000 square feet of interactive exhibition space.
Programming at The Center will draw from the body of work of John Scott and focus on the overarching theme of "Dancing at the Crossroads." Four areas of interpretive focus will include Honoring the Ancestor, Displacement and Exile, Jazz and Civil Rights, and The Urban Warrior. The theme and focus areas will establish an interpretive framework that forms an expansive yet in-depth view of the stories and histories that remain critical and relevant for our understanding of our values and culture. This humanities approach to exhibition design is core to showcasing how the arts and humanities, as disciplines, can engage audiences in an intentional and personal way.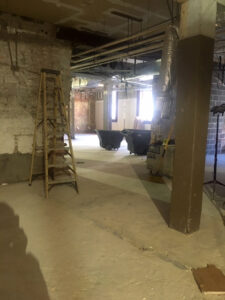 Demolition work has been completed to open up the building's first floor, and the work to build out the center will begin this fall, with a target completion date of late spring 2021.
An artist, educator, and humanist, Scott exemplified the genius that runs in the veins of many Louisianans who live dedicated and distinctly local lives. We are deeply grateful to those who have supported this important, innovative project to public face on the humanities in Louisiana, in particular capital contributors The Helis Foundation, The National Endowment for the Humanities, and the State of Louisiana.
Their visionary support of this project will have a meaningful and lasting impact on humanistic study in Louisiana and propel the legacy of an influential Louisiana artist into the public conscience.