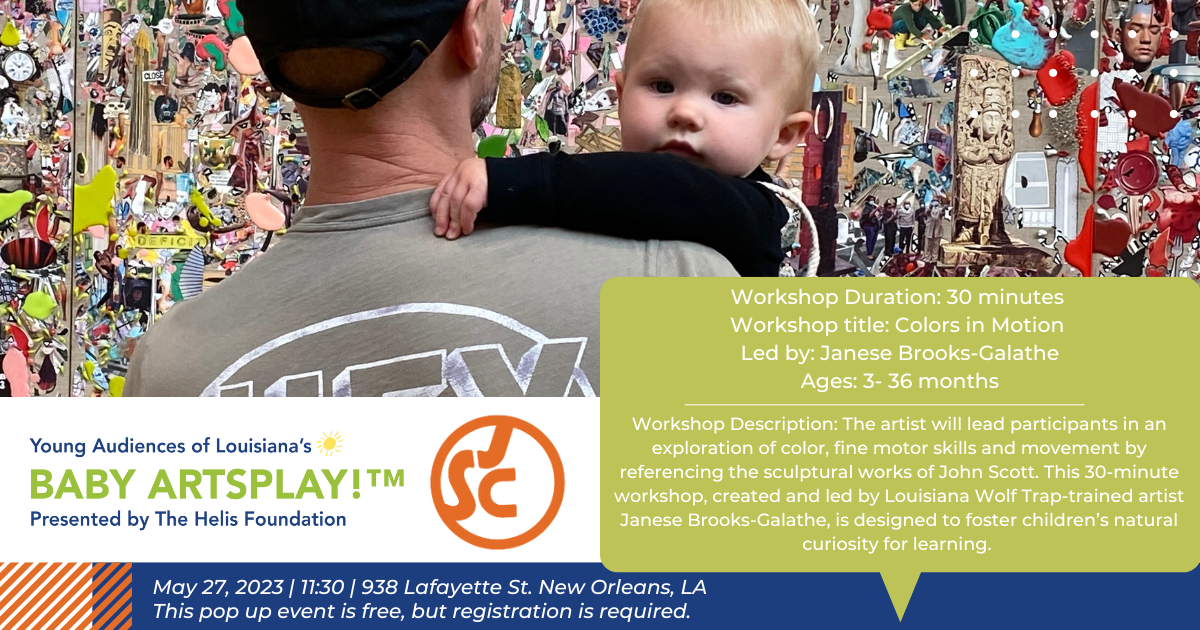 BabyArtsPlay with Young Audiences of Louisiana
YALA Baby Artsplay!™ Pop-Up: "Colors in Motion"
In Partnership with the Helis Foundation
This 30-minute workshop is part of a series by Young Audiences of Louisiana that takes place at art museums across New Orleans. The workshops allow children to explore, observe, and investigate their world and the museum setting through song, dance, and movement experiences. Now in its seventh year, Baby Artsplay!™ Presented by The Helis Foundation is engaging families with infants and toddlers through multi-sensory interactive sessions at local cultural, arts, and history institutions. Caregivers learn how they can use arts strategies to promote childhood development in their everyday life.
Other community partners include: New Orleans Museum of Art, Ogden Museum of Southern Art, New Orleans African American Museum, Newcomb Art Museum and the New Orleans Jazz Museum.
At the pop-up hosted at The Helis Foundation John Scott Center, the Teaching Artist will lead participants in an exploration of color, fine motor skills, and movement by referencing the sculptural works of John Scott. This 30-minute workshop, created and led by Louisiana Wolf Trap-trained artist Janese Brooks-Galathe, is designed to foster children's natural curiosity for learning.
Registration is free, and participation is limited. Learn more here.