Supporting Louisiana's vibrant and thriving poetry scene
As Louisiana's literary ambassador for two years, the Poet Laureate travels the state encouraging fellow Louisianans to explore and engage with poetry.
The LEH oversees the Louisiana Poet Laureate nomination process in partnership with the Governor of Louisiana and sponsors Poet Laureate public programming in libraries, museums, schools, community centers, and other non-profit cultural institutions throughout the state.
Recent Poets Laureates include Mona Lisa Saloy (current), John Warner Smith, Jack Bedell, Brenda Marie Osbey, Darrell Bourque, Julie Kane, Ava Leavell Haymon, and Peter Cooley. For a full list of Louisiana Poet Laureates, click here.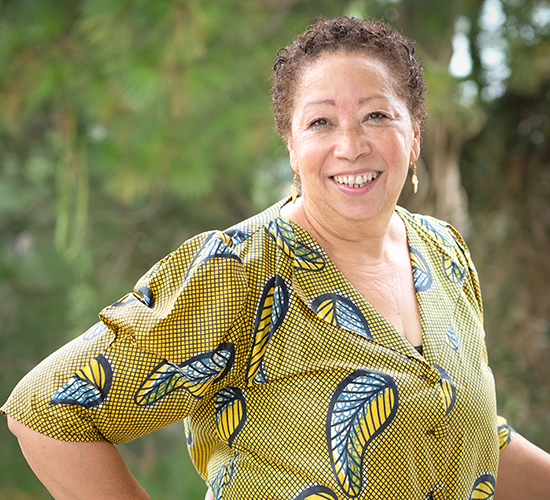 2021–2023 Louisiana Poet Laureate, Mona Lisa Saloy
A native New Orleanian as well as a poet and folklorist, Saloy is the Conrad N. Hilton Endowed Professor of English at Dillard University in New Orleans. Her first collection of poetry, Red Beans & Ricely Yours: Poems (Truman State University Press) won the 2005 T. S. Eliot Prize for Poetry as well as the Pen Oakland-Josephine Miles 16th Annual National Literary Awards in 2006. Her second published collection, Second Line Home: New Orleans Poems, was published by Truman State University Press in 2014.
A prolific writer of both poetry and on folklore traditions in Louisiana, Saloy earned a PhD and an MFA from Louisiana State University, an MA from San Francisco State University, and a BA from the University of Washington. Her work has been published in numerous academic and literary journals, including Africology: The Journal of Pan African Studies, Callaloo, Southern Journal of Linguistics, African American Review, Haight Ashbury Literary Journal, and more.
As a faculty member and mentor Saloy has successfully raised funds for and expanded English and creative writing programs at Dillard, including securing major grants from the LEH, the National Endowment for the Humanities, the Mellon Foundation, and more.
Do you want to bring the Poet Laureate to your town?